Diversifying your portfolio of investment properties is a good idea. It eliminates a bit of risk and it allows you to grow and scale what you have in new ways. Sometimes, investing outside of your home market will require you to take a leap of faith. You might even want to invest in a property without seeing it.
Is this something you would be comfortable doing?
It should be. With the right technology and some excellent local property management and real estate support, you can buy a property in the Norfolk or Hampton Roads area without even coming here to see it. Real estate investors can get a look at a potential property by taking video tours, asking for detailed photographs and descriptions, and talking to a local broker and property manager about market rents, competing properties, and market conditions.
Investing from afar is not as difficult as it once was. If you're living outside of Virginia, but you know you'd like to invest in residential real estate here, you need two things:
A willingness to invest in and use technology.

A great local resource like a property manager who can help you navigate the market and the process.
Investing in a property sight unseen can come with some risks. But, it's not impossible. In fact, it can be pretty profitable.
Here's what you need to know.
Find Your Real Estate Agent First
Maybe you have access to the MLS or you spend a lot of time scouring Zillow and other real estate sites.
You still need some local real estate help so you know what's available on the market in the city you're planning to invest in.
Do you have a local real estate agent in mind? If you're not already working with someone, look for a local professional who has experience working with investors from outside the area. You'll find you move through the process with more efficiency and less frustration. You want your real estate agent to understand your investment goals, your timeline, and your budget.
Whether you're hoping to buy in Norfolk, Hampton Roads, Portsmouth, Newport News, Virginia Beach, or one of the surrounding communities, a local guide to the real estate market will be essential. This is an important part of every investment property purchase, but it's even more important when you're buying an investment sight unseen.
An excellent real estate agent can provide a set of eyes and a pair of hands. You'll have someone walking through the property on your behalf, and coordinating with inspection companies and sellers. A good agent will show you what's available in the market according to your investment goals, budget, and plans.
The right agent will know the market, have a lot of experience working with remote investors, and possess some serious negotiating skills to get the best deal on your behalf.
If you're lucky, you'll find a real estate agent that also does property management. Let's talk about the importance of working with local property managers when you're investing sight unseen.
Local Property Management Expertise
The job of your real estate agent is to help you find potential investment properties. They'll show you the homes electronically, and they'll talk to you about the position you find yourself in when it comes to negotiating prices and terms. They might also take you on a virtual tour of the property, and conduct any necessary due diligence on your behalf.
A property manager has a different set of skills than your agent and a lot of experience in the rental market. With a property manager working on your team, you will have someone who can tell you:
All of this information is essential before you buy sight unseen, and your property manager can be a huge asset in ensuring you're buying the right investment in the right neighborhood.
Once you have your property manager and your real estate agent in place, you can ask for referrals when you need a lender, insurance agent, and other specialized help. These local experts will be prepared to help you buy your investment property without seeing it.
Tour Your Investment Property With Technology
When we say "sight unseen," we're talking about buying a property without seeing it in person.
You can still get a good look at it, thanks to the technology tools that agents and property managers are eager to invest in.
You can see just about everything about a property without actually being there. Virtual tours are easy to record and share, and you can take your time looking at each frame and each element of the property that's important to you. You can zoom in. You can zoom out. You can gather other people around you to hear additional opinions and thoughts.
The virtual tour is an ideal first step, but don't stop yourself from doing a little extra digging. And never settle for the produced video tour that a seller provides. Ask your real estate agent or property manager to visit the property for a live showing. They can get you on a video chat, a FaceTime call, or some other video messaging platform so you can walk through the property with them. This will allow you to stop and focus on specific areas. You can step inside each closet and test every faucet, even if you're not actually there.
Requiring a Property Inspection Before You Close
Inspections are always recommended, but they're more important when you're buying a property without seeing it.
We understand the dramatics of the real estate market over the last few years. One of the trends that we saw during the most competitive moments of the market is where buyers would waive the need for a property inspection. That's not going to work for you. We don't recommend waiving an inspection.
Several benefits come with a comprehensive property inspection. This is fundamental when you decide to purchase real estate that you have never seen and will likely never visit. You'll want to know about any potential problems, especially when we're talking about an investment property that you're required to keep habitable and safe.
Home inspections will save you money in the long term and protect you against buying a property that won't make a good rental. You can't make money off a home with structural issues or a growing sinkhole in the backyard. Inspect for flooding and windproofing. Check the condition of the roof.
Review your inspection report carefully. Talk about it with your real estate agent and property manager. If the inspection unveils extensive damage, a price adjustment might be in order, or you may want to look elsewhere.
Making an Offer and Closing the Deal
Once you're satisfied that this is an investment property that will work for you, it's time to make an offer. This isn't terribly risky. The hard part is over. Now, you're telling your seller what you're willing to pay.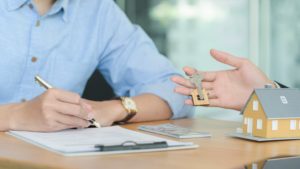 Prepare for a counteroffer. And, be willing to negotiate. As an investor from out of the area, you'll likely be in constant touch with your real estate agent during this period. It can feel stressful when you're not there, but trust the process and your real estate and property management partners.
There is no reason for you to fly into Virginia and attend the closing process in person. The closing can go forth without you there in person. You have plenty of trusted professionals who are doing good work on your behalf. Leave it to them.
There are so many benefits to investing sight unseen and now, very few limitations. You can invest in properties and make offers even without seeing the property, and this opens up a lot of new opportunities for investors. You can cast a wider net when you're looking for new markets to invest in, and you can take some steps to diversify your portfolio by investing in properties you may not have considered earlier.
Virginia remains a hot real estate market. We have more and more people moving into the area, and new construction is underway to keep up with demand. If you're thinking about investing in a property but you have no plans to come to the area, we'd be happy to talk with you and assist you as your local property management partners. We know this area very well, and we can help you navigate every part of the investment process.
If you'd like to talk about this further, please don't hesitate to contact us at Doud Realty Services, Inc. We provide expert property management in Norfolk, Portsmouth, Hampton Roads, as well as surrounding areas such as Virginia Beach, Suffolk, Chesapeake, and Newport News.