Fair housing laws are always changing, but there are several requirements in the Americans with Disabilities Act (ADA) that are consistent and unlikely to be altered. For example, the law requires that you provide reasonable accommodations to your tenants and applicants who have a disability. As a landlord, you cannot refuse "to make reasonable accommodations in rules, policies, practices, or services, when such accommodations may be necessary to afford ... person(s) [with disabilities] equal opportunity to use and enjoy a dwelling."
You want your tenants with disabilities to enjoy the home you're renting out in Hampton Roads. You want to ensure everyone can easily see and apply for your property. And, you want to be willing to accommodate any special and unique needs that residents may have.
A lot of landlords will ask, however, how far the law requires them to go. You need to be committed to ADA compliance, and you also need to protect your own investment property.
There are different rules for multi-family properties, especially. If you're renting out an entire building, you'll need to be sure that building is accessible.
Because there are so many questions and often so much confusion, we're taking a look at some of the things you need to consider when complying with the ADA and making accommodations. This information is provided from our own expertise as Hampton Roads property managers in Norfolk and the surrounding areas. If you have a specific question about the law and what you need to do, we recommend you speak with an attorney who specializes in ADA compliance and disability law.
What is the Americans with Disabilities Act?
The Americans with Disabilities Act is a civil rights bill that was signed into law in 1990. This law prohibits discrimination in employment and housing based on disability. Individuals with disabilities are also protected against discrimination in public spaces.
For the purposes of Hampton Roads rental housing, the ADA requires landlords and property owners to provide reasonable accommodations and modifications to rental properties as needed by tenants.
Who does the law say can request those reasonable accommodations and modifications?
According to the ADA, it's any tenant who has a physical, intellectual, or emotional disability.
Any applicant or resident who has a disability is legally entitled to request accommodations or modifications. This ensures that all people regardless of ability or disability have the opportunity to live in rental units with the same safety, accessibility, and comfort.
This does not mean that everything is on the table. All accommodations must be "within reason." While rental property owners are not legally allowed to deny any reasonable requests or discriminate against any tenant, an unreasonable request could be denied. We recommend you not deny an accommodation without speaking with an attorney.
What is the Fair Housing Act?
Like the ADA, the Fair Housing Act protects people with disabilities. This law, however, is specific to housing.
The Fair Housing Act prohibits discrimination in housing and housing-related transactions because of a person's disability. Landlords, rental property owners, property managers, real estate agents, leasing agents, mortgage lenders, insurance agents, and anyone who has an interest in providing housing, will be bound by this federal law.
What are Reasonable Accommodations for Hampton Roads Rental Property Owners?
According to the language in fair housing laws that protect people with disabilities, a reasonable accommodation is a change, exception, or adjustment to a rule, policy, practice, or service.
The Fair Housing Act gets specific when it comes to accommodations that are required in multi-family buildings. It requires that seven design features be incorporated into buildings built after 1991. These design features have allowed for the quick adaptation of units to meet accessibility guidelines.
Here are the accommodation requirements included in the Fair Housing Act:
Accessible entrances. This is an entrance that allows for physical access to a facility from public sidewalks, public transportation, or parking areas. It's a basic need for anyone with disabilities who need to enter or exit a building.

Accessible public use areas. This would cover any common areas in your rental property, such as a lobby, clubhouse, or swimming pool area.

Usable doors. Wheelchairs should have plenty of space so that people in them can get into and out of doors.

Reachable light switches, thermostats, and electrical outlets. Inside of your rental property, these need to be at a height that accommodates people with disabilities.

Reinforcements for walls to allow for grab bars. The ADA has specific requirements for how and where grab bars should be placed when they're needed.

Accessible kitchen and bathrooms. This may be wider door frames or seats in the shower/tub.

Access to and through a covered dwelling.
The Fair Housing Act requires all covered multifamily dwellings that were constructed and prepared for occupancy after 1991 to be ADA-accessible and compliant.
This may be an apartment complex, condominium, timeshare, cooperative, public housing building, nursing home, or assisted living facility.
According to ADA requirements, these features must be met in all buildings with four or more rental units and one elevator. In buildings with no elevator, modifications are made to units on the ground floor.
All public areas, such as the parking lot and leasing office, must also be made compliant.
Who Pays for Accommodations and Modifications?
When you're making your Hampton Roads building ADA-compliant, you'll be responsible for paying for the accommodations that bring you up to code. Look for vendors who specialize in this type of work and understand the requirements.
When it comes to structural modifications for a specific tenant in a unit or a single-family rental home, however, the cost generally falls to that renter. The exception to this is if the rental is listed as a federally-assisted housing structure.
As your tenants are preparing to move out, you can request that they remove the modifications from the unit at the time of vacating. If there were wall mounts or grab bars in the bathroom, you can ask your tenants to take those out before they depart.
Service Animals and Support Animals as Accommodations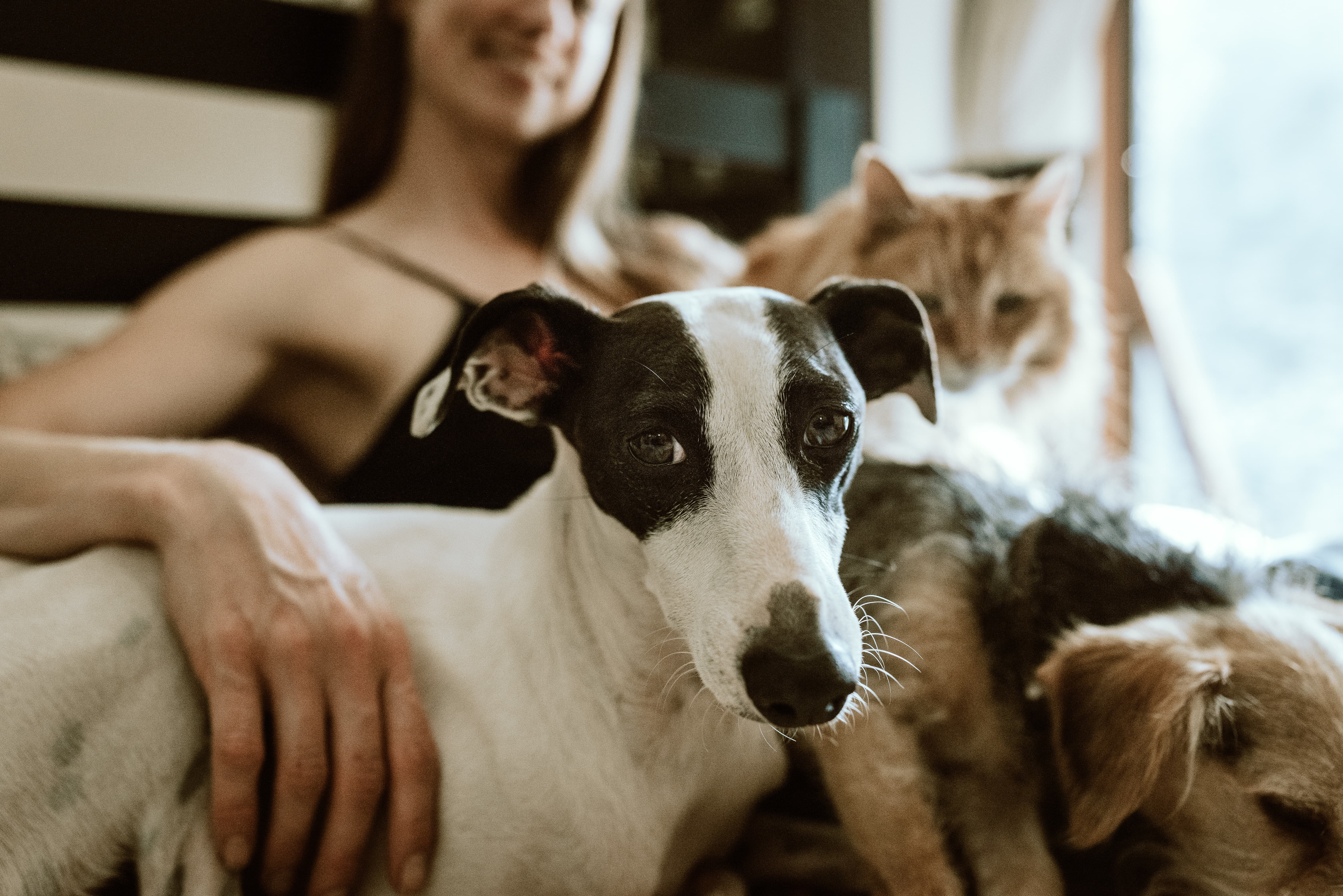 Animals can be accommodations for people who have disabilities.
While pets are optional in your rental property, service and support animals are not. This is an important distinction and one that has serious legal consequences. You can allow pets or disallow pets. If you do allow pets, you can charge a pet fee or a pet deposit.
This is not permitted with service animals and support animals.
The service animal your tenant needs is seen by the law as an accommodation, not as a pet. Therefore, not only do you have to allow it; you also cannot charge a pet deposit, pet fee, or pet rent.
Differences Between Service Animals and Companion Animals
When your Hampton Roads tenant needs a service animal for a physical or intellectual disability, you cannot ask what the service animal is for. The disability is often obvious, and there's no need to go digging around. Service animals are certified and trained. They are easily identified by a flag or a special vest. A service animal is always a dog.
For emotional support and companion animals, the law does allow you to ask some questions. While it may be uncomfortable and is not always recommended, you can ask for documentation if the disability is not immediately apparent. Companion animals are different from service animals in that they can be any type of animal and they aren't trained to do a specific task or serve a specific purpose. They offer comfort and support.
In these cases, you can ask your tenant for documentation from a medical professional explaining the disability and why the animal is required. Be careful with what and how you ask. While asking for documentation is permitted, being difficult or expressing doubt can get you into legal trouble.
Who has a disability for the purpose of service and support animals?
Look to the federal nondiscrimination laws for help with this question. They define a person with a disability to include any individual with a physical or mental impairment that substantially limits one or more major life activities; an individual with a record of such an impairment; or, an individual who is regarded as having such an impairment.
In general, a physical or mental impairment includes but is not limited to, conditions such as:
Orthopedic disabilities

Visual disabilities

Speech and hearing impairments

Cerebral palsy

Autism spectrum disorders

Epilepsy

Muscular dystrophy

Multiple sclerosis

Cancer

Heart disease

Diabetes

Human Immunodeficiency Virus (HIV)

Developmental disabilities

Mental illness

Drug addiction and alcoholism
We provide this information to owners because it's easy to make a mistake with fair housing and ADA laws.
Violating a fair housing law can cost you $16,000 just for your first offense. This is not a mistake you want to make. You'll suffer financially and your reputation will take a hit, too.
Let's make sure you remain ADA-compliant and aligned with all fair housing laws and best practices. If you'd like to talk about this further, please don't hesitate to contact us at Doud Realty Services, Inc. We provide expert property management in Norfolk, Portsmouth, Hampton Roads, as well as surrounding areas such as Virginia Beach, Suffolk, Chesapeake, and Newport News.