Rental properties have strict regulations about the permissibility of pets in the vicinity. Often, this becomes a point of conflict between the owner and tenants, mainly due to the nuisance and additional damages that pets cause to the property.
As a result, many landlords don't allow pets in their rental units at all. However, if a tenant has a disability or suffers from a mental illness, they might require a service animal or an emotional support animal, in which case, the pet policy rules change.
What are Service Animals?
Service animals assist people with disabilities and are not considered pets. The most common service animal is a dog; several people who suffer from any form of visual impairment often have guide dogs who help their owners get around.
There are also medically trained service dogs who alert the authorities if their owner has a seizure or any other medical emergency. Service animals are primarily trained to assist differently-abled people with things that they cannot do by themselves. Their owners have documents that certify the service animal as a trained professional. In addition, the animal is required to wear a belt or a collar for easier identification.
How are Service Animals Different from Emotional Support Animals?
A service animal is specifically trained to help its owner perform activities they can't do by themselves. An emotional support animal does not necessarily provide physical assistance but is more of an emotional anchor for people suffering from depression, anxiety, or other mental health issues. For several people with mental health concerns, emotional support animals offer support by their mere presence.
Government Regulations for Service Animals
As a Norfolk landlord, it is crucial to identify the needs of your differently-abled tenants. Therefore, you have to be familiar with the local, state, and federal rules about service animals. These include:
The Federal Fair Housing Act and the Virginia Law prohibit discrimination against people who need service animals in rental houses. Therefore, landlords are required to allow service animals and emotional support animals on their rental property.

According to the new Department of Housing and Urban Development (HUD) guidelines, if a tenant has a service animal who helps them perform tasks, the landlord can ask them for a written certificate for verification. The written letter must hold up in court. Unofficial letters from third-party providers are not allowed for verification. It must be from the tenant's healthcare provider, peer support group, or a non-medical service agency.

The owner is also not allowed to deny the service animal based on its breed or weight. Although these rules apply to pets in general, they don't apply to service animals, regardless of their breed.

Since service animals are not considered pets, landlords cannot charge additional rent for the animal. Additionally, even though your lease disallows pets, you can't bar the use of such animals.

Service animals cannot be restricted to spaces in a rental property. They are allowed to accompany their owner wherever they go.

The landlord can charge the tenant if their service animal has caused significant damage to the rental property. Additionally, the landlord can evict the tenant if their service animal causes any harm or becomes a threat to the neighbors in the community.

The owner can request proof of the service animal's vaccination and immunizations as well as health certificates.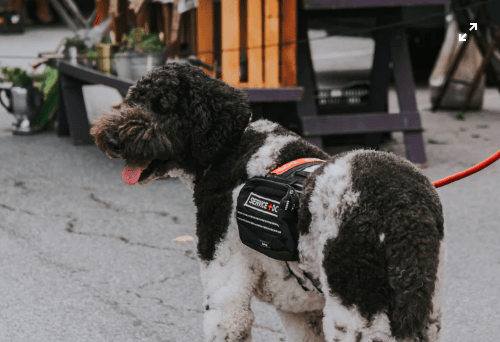 Ultimately, the landlord must adhere to the Fair Housing Rules and avoid discrimination against the differently-abled tenant and the service animal. As long as the service animal is well behaved, the tenant has a legitimate right to be accompanied by the service animal.
As a Norfolk landlord, you have to abide by these rules related to service animals to avoid charges of discriminatory behavior. If you need further assistance with managing your rental property or drawing up a lease, feel free to connect with us at Doud Realty Services, the leading property management company in the Norfolk and Hampton Roads areas.