Communication plays a critical role in strengthening a relationship, especially that of a landlord and tenant. Several renters move out of their rental homes due to conflicts with their owners, citing lack of communication as the primary reason. Transparent, reliable, and respectful communication is therefore essential for a smooth tenancy.
Even though a competitive market might attract many renters, it is up to the landlord to retain them. One of the best ways for landlords and tenants to maintain a cordial relationship is by having a communicative approach, which can benefit both parties in the long run.
Here are a few tips for effective communication with your Portsmouth tenants.
As a landlord, you have to start by being honest and truthful about your property. Some landlords occasionally omit a few details about the rental unit, which becomes a significant issue once the renter finds out. It is best to be truthful about all the property's advantages and shortcomings, as your effort to establish a trusted bond with the tenant starts from the first showing itself.
Encourage Transparency in Communication
In a landlord-tenant relationship, both parties must be open in expressing and discussing their concerns. Being considerate about each other's rental needs can lead to a simplified process of problem resolution.
The landlord must be clear with the terms and conditions of the usage from day one. It is also advisable to discuss the terms of the lease in person. If your renter has an issue with the rules, try to understand their perspective and come to a neutral solution.
Additionally, keep thorough records of all the conversations you have with your tenants, such as call records and maintenance requests.
For active communication to take place, it should be possible for the tenant to reach you. Therefore, as a landlord, you have to be reachable across multiple modes of communication. For property owners with many Portsmouth rentals, having in-person conversations with all your occupants can be challenging.
As a result, you have to at least be reachable via email, phone, or message. Ask your tenants about the mode of communication they would prefer to use when they first move in. It will save you a lot of hassle down the line.
Be Responsive to Requests
In addition to being accessible, you also have to provide prompt service and rapidly respond to renter requests. It will make them feel valued and encourage them to communicate their concerns to you. In case there is a delay in response from your end, politely explain why you could not address their query right away.
Make it a priority to address maintenance-related issues at the earliest convenience. Also, always give them a notice before visiting the rental property for routine inspections.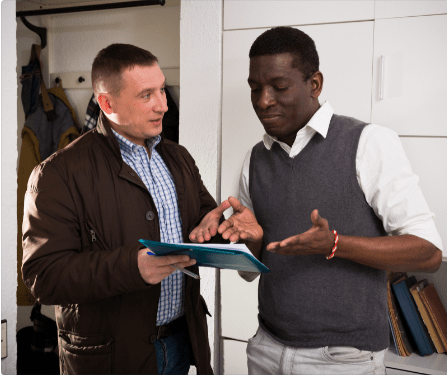 As a landlord, you are expected to look after the needs of your tenants consistently. If you promise but don't deliver, it can cause the tenants to lose trust in you and create a barrier to effective communication. So, only promise what you can provide, and keep that promise.
Communication is a two-way street; the tenant and the landlord both have to make an effort to be open and transparent. Most of the issues that renters have with their landlords, and vice versa, can be quickly resolved with effective communication.
For more tenant-related information and property management services, contact us at Doud Realty Services. We are one of the leading real estate management companies in the Norfolk and Portsmouth area, with experience of over 20 years.