Like every Hampton Roads landlord, you want your rental to be occupied by good tenants. Similarly, other owners and property managers are also always worried about rental vacancies and do their best to avoid vacancies in a property for a long time. However, if you have found suitable tenants to occupy your property, you need to focus on retaining for a long time.
The monthly rental rates in Virginia have significantly increased over the last few months, along with the rest of the United States. The average price surge is nearly 20% in the previous year, i.e., 2021. The price hike may seem like a profitable option for homeowners since it increases the rate of their income and is financially beneficial.
However, it also has a lot of negative financial implications in the long run such as low demand due to unaffordability, lack of tenants and increased vacancy. It has been observed that rentals with higher rates than average are more likely to be vacant due to their unaffordability. Therefore, it is essential to implement rigorous measures to lower the vacancy rates in your unit.
Here are a few ways to help you lower your vacancy rates and improve lease renewals.
1. Have an Early Lease Renewal Process
The best way to reduce the vacancy rate is by finding the right tenant and ensuring that they stay with you for a long time. To do this, you need to remind your tenant about renewing their lease before the current one expires.
Lease renewals can benefit you and your tenant. They eliminate the hassle of finding a new renter and reduce the trouble of going through a new marketing process, tenant screening, and property showings. You also get to build on your existing relationship with the tenant, which is easier than getting to know a new tenant.
Send a Lease Renewal Notice
Ideally, you should send a lease renewal letter to your tenant 90 days, or three months, before their current lease expires. This period gives them considerable time to think about their potential plans and arrive at a decision. The lease renewal letter or notice that you send should include the date, property address, tenant name, your contact information, and the contact details of your property manager, if you have one. Do not forget to remind the tenant of the exact date their current lease expires, lease duration options if they choose to renew, and any changes in rent.
Have a Reasonable Lease Renewal Cost
When you offer a lease renewal notice to your tenant, you are also allowed to hike up the cost. This increase in rent is usually significant like the current situation in Virginia. However, it discourages the tenants from renewing their lease and can also be unaffordable. Therefore, ensure that you factor in all costs and keep the increase in rent to a minimum.
Implementing an early lease renewal process can be an uncomplicated and easy step only if you maintain transparent and open communication with your tenants.
2. Offer Attractive Incentives
You may have to offer your tenants a wide range of additional incentives if you want them to stay with you. Tenants most commonly choose to leave their current rentals because they want to upgrade to something newer, efficient, and relevant. Maybe your property is in a closed-off location, or perhaps it does not have modern, technologically enhanced features. However, you can make up for it by offering attractive incentives to your renters.
You can give them monetary incentives, competitive amenities, or extra maintenance services. Monetary incentives are always the most preferred by tenants. According to a survey, 52% of renters prefer spendable rewards.
Spendable rewards can be actually useful as opposed to temporary incentives like decorative things. Therefore, you can offer gift cards, brand vouchers, coupons to your neighborhood's favorite restaurant, or other things that your renter can actually utilize and enjoy.
Another incentive you can offer is a discount on their rent. According to observations, 58% of renters want a discount on their rent as it significantly reduces the tenant's monthly expenses. However, if you do not directly want to lower the rent, you can also offer to cover the costs of your tenant's parking, offer them free internet, or give them a gym membership.
If the above incentives related directly to funds are not a good option for you, then you can consider a different route. You can offer to upgrade the rental property by adding different facilities that can be useful to the renters. It is a proven strategy that can help you retain your tenants in the long run.
27% of people in a survey said that rental upgrades would persuade them to sign a new lease. Therefore, as a landlord, you should pay attention to the state of your rental and make the necessary upgrades.
Consider painting the exterior and interior of the rental, installing new carpets if the old one has become shabby, replacing old and outdated equipment, integrating new technologies, or opting for a newer and relevant décor.
These suggestions can significantly improve your tenant's satisfaction with your property, thus giving them a reason to renew their lease with you.
3. Prioritize the Landlord-Tenant Relationship
Landlords are at an obvious advantage in Virginia as the state has no rent control and more freedom to pick tenants. So, you have to make sure that your tenant is satisfied with your service and does not feel neglected. The best way to do this is by prioritizing your relationship with the renter and trying to consider their needs and demands.
Tenants choose not to renew their lease for several reasons like location or price. But the main reason is because they are not satisfied with the landlord's customer service. To ensure that your renters are happy in your rental, you can try to be proactive with communication, respond to maintenance requests on time, and provide updates in advance. Make sure that you are easy to get hold of and available on multiple different communication channels.
Your renters should always be your topmost priority. So, if they are trying to get in touch with you, be sure to cut back on your response time. You can give them specific hours to contact you and always be available during that period. Additionally, as a landlord, you should also be receptive to the tenant's needs and try to provide them with a safe, habitable, functional, and modern rental.
4. Update the Rent With Current Market Rate
Price is an essential aspect that your tenants consider while renewing their lease. If you market your rental with a competitive price or lower, the chances are that the number of applicants will be higher. However, if your rental is of a higher rate than average, you may receive fewer applications. Therefore, it is important to set your rate according to the current market rate.
Before deciding on a rent or rent increase for your property, ensure you conduct adequate market research. Analyze the current market rate for rentals similar to yours in space, type, amenities, and location. Even though conducting this research may seem like an extensive and challenging task, it can have a massive payoff.
You have to be thorough with your research since there is a considerable risk involved in the renting business. Stay updated with current trends around you and try to integrate them into your unit.
Since there is no rent control in Virginia, there is no limit on the rent increase a landlord can impose. While there is no rule regarding how often you can increase the rent, you also need to approach it to streamline your finances.
So, if you have tenants with yearly leases, you can consider increasing the rent during lease renewals. However, you must submit a 30-day notice to the tenant informing them about the hike they should be expecting.
Even though you increase the rent, make sure the amount is not entirely unreasonable. Make sure you thoroughly assess your rental's worth and charge accordingly.
The Bottom Line
Conducting research, screening, and managing the property entirely on your own can be a hassle. Rather than do it on your own, you can enlist the help of a property manager. An experienced property manager can conduct in-depth market research and price your rental accordingly. They have a vast network of professionals working in the field to help you get good tenants and implement different methods of reducing vacancy in your property.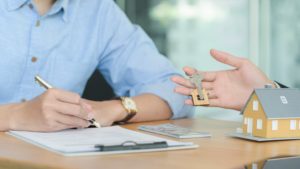 We, at Doud Realty Services, have over 20 years of experience in residential property management in the Hampton Roads area. Our team of property managers will help you to minimize the vacancy rates in your rentals by implementing highly successful strategies. We operate in Norfolk, Portsmouth, and Hampton Roads areas.
For more information regarding your rental, connect with us at Doud Realty Services.